About the prints
Fine art, limited edition prints
All of the artworks exhibited on the MNO gallery website are sold as fine art, limited edition prints.
Prints are limited to an edition of 100, with each assigned a unique edition number and issued with a certificate of authenticity signed by the author. Once 100 prints have been sold, no more of that format will ever be produced.
Please note that the images will be printed on A3 photographic paper (297 x 420 mm – 11.7 x 16.5 ins). We do not alter the aspect ratio, nor crop or resize the author's original. All prints will have a minimum border of 0.5 inches to allow for framing.
The images are printed on quality photographic print paper appropriate to the style of picture, and the input of the Author, with an Epsom 3880 printer using Epson ink. When framed and displayed properly the prints should last for 80 years minimum.
The print will be posted in a secure print tube. Delivery costs within the UK are included in the price shown.
For delivery outside the UK please contact MNO Gallery: customer-service@mnogallery.com
About MNO
The Gallery of Fine Art Photography
As the founder and custodian of the MNO gallery, I am in the privileged position of not only having an outlet for my own passion for photography, but of admiring and exhibiting the work of others, whose talent I continually find amazing and inspiring.
The MNO gallery is the culmination of meeting, knowing and loving the work of authors I greatly admire. I justifiably refer to them as "authors", because the great prints which are the products of their work are the results of so much in depth research, expensive and expansive travel, the best equipment, individual processing and artistic eye, that the term "photographers" seems too understated.
No expense has been spared in the production of this exquisite collection of fabulous images, hence at MNO; it definitely is a case of "Money No Object"
- Roy Morris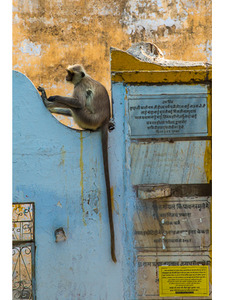 Long Tailed Monkey, Pushkar,